Sex Crimes
Being Charged With a Sexual Assault Crime Requires Immediate Action
Being charged with Rape or Child Molestation is often far worse than being charged with murder or manslaughter. In Michigan, most sex crimes are classified in one of four difference categories of Criminal Sexual Conduct.
The Kemp Law Firm is very successful in defending clients accussed of all types of sex crimes. We have been successful in all stages, from preventing charges from being filed, to obtaining not guilty verdicts at trial.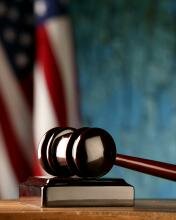 What you are charged with depends mainly on two factors:
1.) What you are accused of doing; and
2.) The age of the complaining witness.
The most important thing to remember is that you
will not likely be able to talk your way out of these serious charges.
The second most important thing to remember is that you need the help of an attorney who is experienced in defending people accused of Criminal Sexual Conduct, and you need that help as soon as you are accused. Many times, things will move very fast, and you will find yourself behind bars where you will likely stay until your case is over, or worse. The soon you contact us, the sooner we can build your case, and protect your rights, your good name, and your life.
Contact The Kemp Law Firm today for your free consultation.
We have handled cases in Highland, Milford, Walled Lake, White Lake, Waterford, Clarkston, Hartland, Holly, Rochester, Rochester Hills, Auburn Hills, Troy, Madison Heights, Livonia, Garden City, Oak Park, Traverse City, Novi, West Bloomfield, Detroit, Farmington Hills, Southfield, Howell, Brighton, Port Huron, Mt. Clemens, Romeo, all of Metro Detroit, Oakland County, Wayne County, Livingston County, Macomb County, St. Clair County, Sanilac County, and handle cases for the entire State of Michigan.
Expert Defense
Many prosecuting attorney's offices have special operations departments that focus on prosecuting sex crimes. These attorneys are trained to convict people, innocent or not. At The Kemp Law Firm, we pride ourselves on our ability to show our clients' innocence, and prevent a miscarriage of justice.
Here, we look at every case as though it is going to be tried in front of a jury. That way we are able to see all of the holes in the prosecutor's case. We also look to see if the police have violated any of your guaranteed Constitutional Rights. Then, through aggressive motion practice and hearings, we challenge the Prosecutor's evidence. We have access to some of the best experts in Michgian, and Nationally who can come in and debunk the Prosecutor and Police Officer's evidence.
Sex Crime Information
No Matter What, A Sexual Crime Conviction Will Affect the Rest of Your Life
In almost every scenario, if you are convicted of a sex crime, or criminal sexual conduct (CSC), you will be labeled as a sex offender, and likely, will have to register. Below is some information about the different criminal charges, and the various "degrees" of criminal sexual conduct.
Consequences of SORA (the Sex Offender Registration Act)
In Michigan, when you are convicted of a sex offense, you will likely have to register as a sex offender. .
get in touch