Chapter 7 Bankruptcy
Wipe Out Your Debt & Start New Today!
A Chapter 7 bankruptcy is a debt relief action that allows you to discharge, or "wipe out," most kinds of debt. This includes credit cards, medical bills, foreclosures, repossessions, most lawsuits, and many other kinds of debt. A Chapter 7 bankruptcy can be filed by an individual, a married couple, or a business. In a Chapter 7 bankruptcy you do not have to pay back the debt.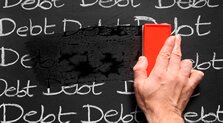 There are criteria that must be met in order to file a Chapter 7 Bankruptcy:
1. You must not have filed another Chapter 7 Bankruptcy in the last 8 years; and
2. You must meet or fall below an income requirement set by the federal government. The assets you own can also
factor in as to whether you should file a Chapter 7 bankruptcy, or if another avenue (such as a Chapter 13 bankruptcy
or debt negotiations) would be more advisable.
We handle Chapter 7 Bankruptcies out of Highland, Milford, Walled Lake, White Lake, Waterford, Clarkston, Hartland, Holly, Rochester, Rochester Hills, Auburn Hills, Troy, Madison Heights, Livonia, Garden City, Oak Park, Traverse City, Novi, West Bloomfield, Detroit, Farmington Hills, Southfield, Howell, Brighton, Port Huron, Mt. Clemens, Romeo, all of Metro Detroit, Oakland County, Wayne County, Livingston County, Macomb County, St. Clair County, Sanilac County, and in both the Eastern and Western District Courts of Michigan.