Why Bankruptcy?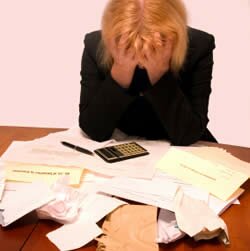 Our economy has dissolved, jobs are few and far between, and people
have to survive any way they can.
After a loss of a job, a disability, or
other life circumstance, many people are unable to afford things they
once could.
Sometimes it's only a temporary lapse
in payments, but all to often the
bills pile up and there is no income
to pay them off.
As daunting as it sounds now, filing bankruptcy can make you feel much better in the end.
Don't let the debt weigh you down. The stress of managing bills and being forced to pay one credit card with another can turn into a vicious cycle quickly, and with interest rates as high (or higher) than 32%, it can take a lifetime to pay them off.
In many cases, bankruptcy can be the answer.
Many people have questions about filing bankruptcy, and below you will find some of the most commonly asked questions:
Will my credit score go down?
Not necessarily.Generally, once a person is considering bankruptcy, they're credit has already taken a hit. In many cases, your credit score may actually go up. At the same time, if you start a bankruptcy with perfect credit, it will most likely go down some, but it is likely not as bad as you may think. The Kemp Law Firm will pull specialized credit reports for you, which show both your current credit score, and your predicted 12 month post-bankruptcy credit score.
If I file bankruptcy, will everyone I know find out about it?
Nobody intends to accumulate debt, but fortunately bankruptcy has lost the stigma it previously held and most people are very understanding about having to file. With that said, in most cases you don't have to tell anyone except your creditors that you are filing. While a bankruptcy petition is a public record, many people do not have the necessary access or ability to find it.
I heard the law has changed and now you have to pay back all of your debts. Is this true?
If you qualify for a Chapter 7 bankruptcy, you do not have to pay back your debts. With this said, there are certain exceptions. You cannot discharge certain debts, such as taxes, spousal or child support, criminal restitution, or most student loans.
If you do not qualify for a Chapter 7 bankruptcy you may still qualify for a Chapter 13 bankruptcy. In a Chapter 13, you must pay back a percentage of the debts through a payment plan that lasts from 3 to 5 years.
If you do not qualify for a Chapter 7 or a Chapter 13, we can still help you get out of debt by debt negotiation with your creditors.
Will the bankruptcy court take my assets?
In the majority of cases we can protect your assets for you, and you will not lose any property. We are able to protect your assets through "exemptions." You are allowed certain exemptions under the Bankruptcy Code, with certain amounts allotted for certain items (i.e. household goods, jewelry, home, cars, etc.).
We thoroughly review all of your assets and exemptions prior to filing the Bankruptcy Petition with the Court. This way we are able to tell you if all of your property is exemptible, and if it is not, we can then discuss your other options with you.
Keep in mind that in almost all Chapter 7 Bankruptcies we can protect all of your assets!
Should I take my property/assets and sell them or give them to a family member to hold on to until my bankruptcy is over?
Anyone who is filing a bankruptcy, either Chapter 7 or 13, is required to notify the Bankruptcy Court of any assets/property that has been sold, given away, or otherwise transferred in the last 2 years. We generally advise that a person considering bankruptcy not dispose of or transfer any property prior to filing bankruptcy.
How long does a bankruptcy take from beginning to end?
It all begins with the consultation (which, as always, is free). Once we meet with you, attorney Zach Kemp can advise you as to if a bankruptcy would benefit you. Bankruptcy is not always the best option. If bankruptcy would not benefit you, we can offer options that may work out better for you. If it is a good option, we will discuss which chapter you would qualify for, and what documents we would need from you.
We cannot file any bankruptcy without 3 things: all documents that are required to be sent to the Bankruptcy Trustee, attorney and filing fees must be paid in full, and the credit counseling course certificate of completion.
Once we have the necessary documents and fees, we will complete your petition and send it to you to review. At that time we will set up your court required credit counseling course, which you may do online or on the phone (you may also use any court approved credit counseling company if you prefer). If you are filing jointly, you and your spouse will do the course together. You only have to do this course one time. After we receive the certificate we will once again review the petition with you. If you approve the petition as 100% true and accurate, we will file it with the Bankruptcy Court.
Approximately 4 – 6 weeks after the petition is filed with the Court you will have the Meeting of Creditor ("341 Hearing"). At this hearing your creditors may be present, although they rarely are. You must bring your Social Security Card and a valid state issued ID. Attorney Zach Kemp will attend the hearing with you, and will be by your side for the entire process. The entire hearing generally lasts only 5 – 10 minutes.
After your hearing you will have 40 days to file your second credit counseling certificate ("Debtor Education Course"). If you do not have this filed within 40 days of your hearing you case will be dismissed.
Once your debtor education certificate is filed with the Court it generally takes 3 – 6 months for the final discharge to come from the Trustee. Once we have received your discharge paper, your case will be closed and we will contact you to arrange for you to receive your file.
Can I go to jail or be arrested for my debts?
Up until the 1800s a person could be jailed for failure to pay debts. This is no longer a part of the United States judicial system, and a person cannot be jailed or arrested because they are unable to pay their debts (with certain exceptions, such as child support or taxes).
Can I file jointly with a friend/family member?
No. Only a husband and wife may file together.
Can I keep using my credit cards?
No. Ideally you should stop using all credit cards once you decide that you want to file bankruptcy. The creditor is allowed to go after and collection anything that you charge within 90 days prior to filing a bankruptcy. (This does not mean that you have to wait 90 days to consult us about filing a bankruptcy).
Should I pay off some of my debts prior to filing bankruptcy?
No. If you make a payment over a certain amount to a creditor the Bankruptcy Trustee is allowed to pursue that payment. If they get the payment back from the creditor, it will be dispersed to the Bankruptcy Court. Many people think that it is a good idea to pay off a home loan, car, or other large debt, but that can hurt your ability to keep your property in the long run. In this case, the larger the debt, the better.
I am thinking about getting a divorce. Should I file for divorce or bankruptcy first?
Depending on your situation, you may need to file one prior than the other. If your spouse is considering bankruptcy as well, it may be more cost efficient for you to file together. If your spouse does not want to file bankruptcy, and you think they may file for divorce during your bankruptcy, you may want to wait. Filing a divorce during an active bankruptcy will stop the bankruptcy, and vice versa.
What does it meant to "reaffirm" a debt?
When a Debtor wants to keep an asset that has a loan attached to it (a "secured debt"), they have the option of keeping the property (and the debt), or discharging the debt and giving back the property to the creditor. If a Debtor decides that they want to keep an asset that has a secured debt they have the option of filing a Reaffirmation Agreement with the Court. This is a contract that states the length of the loan, the interest rate, and the amount of the monthly payment. Once this is signed, you agree that you will pay the loan and it will not be discharged in the bankruptcy. Reaffirmation Agreements are most commonly attached to real property (houses, etc.), automobiles, recreational vehicles, and so on.
I've been garnished/my property has been seized. Can you get it back for me?
YES. We can recover most garnished or seized property as long as your bankruptcy petition is filed within 90 days of the seizure/garnishment and you have the exemptions to cover it.
We handle Bankruptcies out of Highland, Milford, Walled Lake, White Lake, Waterford, Clarkston, Hartland, Holly, Rochester, Rochester Hills, Auburn Hills, Troy, Madison Heights, Livonia, Garden City, Oak Park, Traverse City, Novi, West Bloomfield, Detroit, Farmington Hills, Southfield, Howell, Brighton, Port Huron, Mt. Clemens, Romeo, all of Metro Detroit, Oakland County, Wayne County, Livingston County, Macomb County, St. Clair County, Sanilac County, and handle cases in both the Eastern and Western District Bankruptcy Courts in Michigan.
Contact us now for your free Bankruptcy Consultation!
All statements made above are correct for the majority of people filing bankruptcy. It should not be considered legal advice for any specific person or situation. If you would like any specific advice in regard to filing bankruptcy or the processes involved for your specific situation, please contact us for a free consultation. We are a debt relief agency and we help people file under the Bankruptcy Code.
Find Us on Facebook